26 June, 2021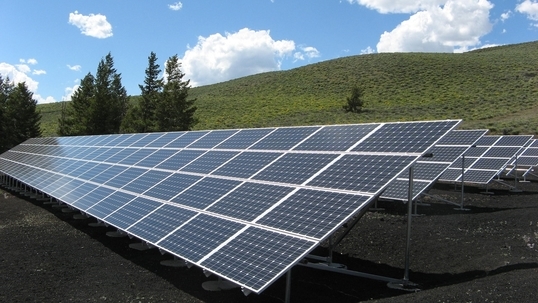 The need for plentiful, sustainable energy that doesn't disrupt the delicate balance of the Earth's atmosphere may be the single most important issue facing this generation. The decisions we make and the technologies we develop over the next few decades will have profound implications for geopolitics, wildlife, food production, and almost every sphere of human endeavor.
Building a sustainable energy future calls for leaps forward in both technology and policy leadership. State governments, major corporations and nations around the world have pledged to address the worsening climate crisis by transitioning to 100% renewable energy over the next few decades. Turning those statements of intention into a reality means undertaking unprecedented efforts and collaboration between disciplines ranging from environmental science to economics.
There are highly promising opportunities for green initiatives that could deliver a better future. However, making a lasting difference will require both new technology and experts who can help governments and organizations transition to more sustainable practices. These leaders will be needed to source renewables efficiently and create environmentally friendly policies, as well as educate consumers and policymakers. To maximize their impact, they must make decisions informed by the most advanced research in clean energy technology, economics, and finance.
---
Current Trends in Sustainability
The imperative to adopt renewable power solutions on a worldwide scale continues to grow even more urgent as the global average surface temperature hits historic highs and amplifies the danger from extreme weather events. In many regions, the average temperature has already increased by 1.5 degrees, and experts predict that additional warming could drive further heatwaves, droughts, severe hurricanes, wildfires, sea level rises, and even mass extinctions.
In addition, physicians warn that failure to respond to this dire situation could unleash novel diseases: Dr. Rexford Ahima and Dr. Arturo Casadevall of the Johns Hopkins University School of Medicine contributed to an article in the Journal of Clinical Investigation that explained how climate change could affect the human body's ability to regulate its own temperature while bringing about infectious microbes that adapt to the warmer conditions.
World leaders have accepted that greenhouse gas emissions are a serious problem that must be addressed. Since the Paris Agreement was first adopted in December 2015, 197 nations have signed on to its framework for combating climate change and preventing the global temperature increase from reaching 2 degrees Celsius over preindustrial levels.
Corporate giants made their own commitments to become carbon neutral by funding offsets to reduce greenhouse gases and gradually transitioning into using 100% renewable energy. Google declared its operations carbon neutral in 2017 and has promised that all data centers and campuses will be carbon-free by 2030. Facebook stated that it would eliminate its carbon footprint in 2020 and expand that commitment to all the organization's suppliers within 10 years. Amazon ordered 100,000 electric delivery vehicles and has promised that its sprawling logistics operations will arrive at net-zero emissions by 2040.
Despite these promising developments, many experts say that nations and businesses are still not changing fast enough. While carbon neutrality pledges are a step in the right direction, they don't mean that organizations have actually stopped using fossil fuels. And despite the intentions expressed by Paris Agreement signatories, total annual carbon dioxide emissions reached a record high of 33.5 gigatons in 2018, led by China, the U.S., and India.
"The problem is that what we need to achieve is so daunting and taxes our resources so much that we end up with a situation that's much, much worse than if we had focused our efforts," Ferraro said.
---
Recent Breakthroughs in Renewable Power
An environmentally sustainable infrastructure requires innovations in transportation, industry, and utilities. Fortunately, researchers in the private and public sectors are laying the groundwork for an energy transformation that could make the renewable energy of the future more widely accessible and efficient.
Some of the most promising areas that have seen major developments in recent years include:
Driving Electric Vehicles Forward
The technical capabilities of electric cars are taking great strides, and the popularity of these vehicles is also growing among consumers. At Tesla's September 22, 2020 Battery Day event, Elon Musk announced the company's plans for new batteries that can be manufactured at a lower cost while offering greater range and increased power output.
The electric car market has seen continuing expansion in Europe even during the COVID-19 pandemic, thanks in large part to generous government subsidies. Market experts once predicted that it would take until 2025 for electric car prices to reach parity with gasoline-powered vehicles. However, growing sales and new battery technology could greatly speed up that timetable.
Cost-Effective Storage For Renewable Power
One of the biggest hurdles in the way of embracing 100% renewable energy has been the need to adjust supply based on demand. Utilities providers need efficient, cost-effective ways of storing solar and wind power so that electricity is available regardless of weather conditions. Most electricity storage currently takes place in pumped-storage hydropower plants, but these facilities require multiple reservoirs at different elevations.
Pumped thermal electricity storage is an inexpensive solution to get around both the geographic limitations of hydropower and high costs of batteries. This approach, which is currently being tested, uses a pump to convert electricity into heat so it can be stored in a material like gravel, water, or molten salts and kept in an insulated tank. A heat engine converts the heat back into electricity as necessary to meet demand.
Unlocking the Potential of Microgrids
Microgrids are another area of research that could prove invaluable to the future of power. These systems can operate autonomously from a traditional electrical grid, delivering electricity to homes and business even when there's an outage. By using this approach with power sources like solar, wind, or biomass, microgrids can make renewable energy transmission more efficient.
Researchers in public policy and engineering are exploring how microgrids could serve to bring clean electricity to remote, rural areas. One early effort in the Netherlands found that communities could become 90% energy self-sufficient, and solar-powered microgrids have now also been employed in Indian villages. This technology has enormous potential to change the way we access electricity, but lowering costs is an essential step to bring about wider adoption and encourage residents to use the power for purposes beyond basic lighting and cooling.
---
Advancing the Future of Sustainable Energy
There's still monumental work to be done in developing the next generation of renewable energy solutions as well as the policy framework to eliminate greenhouse gases from our atmosphere. An analysis from the International Energy Agency found that the technologies currently on the market can only get the world halfway to the reductions needed for net-zero emissions by 2050.
To make it the rest of the way, researchers and policymakers must still explore possibilities such as:
Devise and implement large-scale carbon capture systems that store and use carbon dioxide without polluting the atmosphere
Establish low-carbon electricity as the primary power source for everyday applications like powering vehicles and heat in buildings
Grow the use of bioenergy harnessed from plants and algae for electricity, heat, transportation, and manufacturing
Implement zero-emission hydrogen fuel cells as a way to power transportation and utilities
However, even revolutionary technology will not do the job alone. Ambitious goals for renewable energy solutions and long-term cuts in emissions also demand enhanced international cooperation, especially among the biggest polluters. That's why Jonas Nahm of the Johns Hopkins School of Advanced International Studies has focused much of his research on China's sustainable energy efforts. He has also argued that the international community should recognize China's pivotal role in any long-term plans for fighting climate change.
As both the leading emitter of carbon dioxide and the No. 1 producer of wind and solar energy, China is uniquely positioned to determine the future of sustainability initiatives. According to Nahm, the key to making collaboration with China work is understanding the complexities of the Chinese political and economic dynamics. Because of conflicting interests on the national and local levels, the world's most populous nation continues to power its industries with coal even while President Xi Jinping advocates for fully embracing green alternatives.
China's fraught position demonstrates that economics and diplomacy could prove to be just as important as technical ingenuity in creating a better future. International cooperation must guide a wide-ranging economic transformation that involves countries and organizations increasing their capacity for producing and storing renewable energy.
It will take strategic thinking and massive investment to realize a vision of a world where utilities produce 100% renewable power while rows of fully electric cars travel on smart highways. To meet the challenge of our generation, it's more crucial than ever to develop leaders who understand how to apply the latest research to inform policy and who can take charge of globe-spanning sustainable energy initiatives.
---
About the MA in Sustainable Energy (online) Program at Johns Hopkins SAIS
Created by Johns Hopkins University School of Advanced International Studies faculty with input from industry experts and employers, the Master of Arts in Sustainable Energy (online) program is tailored for the demands of a rapidly evolving sector. As a top-11 global university, Johns Hopkins is uniquely positioned to equip graduates with the skills they need to confront global challenges in the transition to renewable energy.
The MA in Sustainable Energy curriculum is designed to build expertise in finance, economics, and policy. Courses from our faculty of highly experienced researchers and practitioners prepare graduates to excel in professional environments including government agencies, utility companies, energy trade organizations, global energy governance organizations, and more. Students in the Johns Hopkins SAIS benefit from industry connections, an engaged network of more than 230,000 alumni, and high-touch career services.