The MA in Sustainable Energy is a cohort-based program completed over 21 months. The degree requires the completion of 10 courses (40 credit hours). Rigorous coursework in this program offers opportunities to perform sophisticated quantitative analysis, evaluate energy policies and develop solutions for some of the most challenging issues in the energy sector.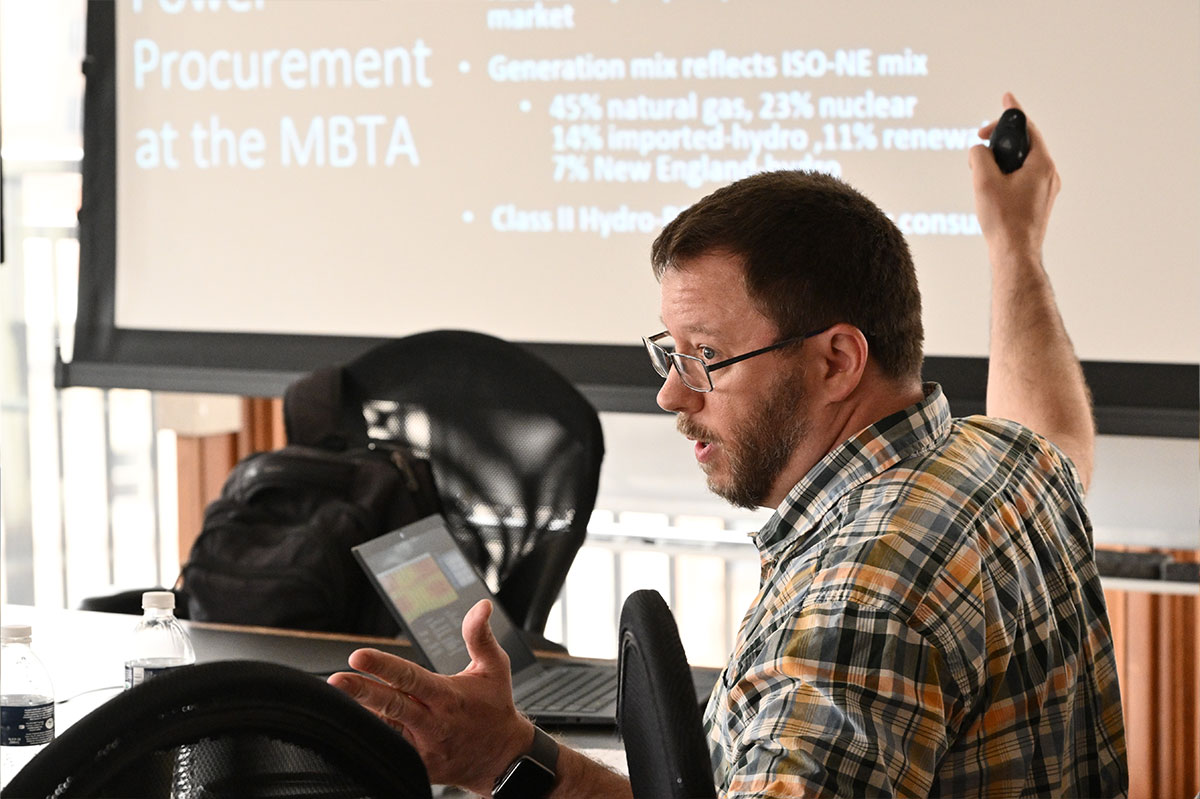 In addition to online coursework, the program features two in-person residencies at the Johns Hopkins SAIS campus in Washington DC. The first residency is held over one-week and offers the opportunity to connect with peers and the Johns Hopkins SAIS community. The second residency includes the capstone project presentation and culminates with participation in the Johns Hopkins SAIS commencement ceremony. For any questions or concerns regarding the in-person residencies, connect with an admissions counselor via chat or submit the request information form. You can also visit our residency experiences page for more information.
Request Information
To learn more about the MA in Sustainable Energy (online) and download a brochure, fill out the fields below, or call +1 410-648-2495 or toll-free at +1 888-513-5303 to talk with one of our admissions counselors.
*
All Fields are Required. Your Privacy is Protected.
The Master of Arts in Sustainable Energy (online) program helps me actualize the ways our societies can shift toward a more sustainable future. I enjoy taking part in discussions with the like-minded individuals in the program. It is interesting to see view points from different professional backgrounds regarding the concept of sustainable energy. I appreciate the faculty's hands-on approach when helping us better convey a message that encompasses both technical and analytical information to a varied audience.

Alexandre Nasra
Learning Outcomes
Provide students with advanced skills and knowledge to lead the global community to a decarbonized energy sector to help mitigate climate change.
Introduce students to the economics of sustainable energy sources and the financing options available in the sector.
Lead students to explore and understand the impact of international institutions and global governance in promoting sustainable energy and mitigating climate change.
Help students develop a systemic view of the various parts of sustainable energy systems and its functions.
---
Course Descriptions
Optional Non-Credit Course
This non-credit course is a unique opportunity to gain practical knowledge of data science and R programming within the context of international relations and policy. Students will become familiar with basic R programming, data visualization, and descriptive statistics. Visit our course page for details. You do not need to be a current or accepted JHU student to take "Data Science and R: An Introduction."
Note: This course is not part of the MA in Sustainable Energy curriculum and does not count toward credits for the program.
Since starting the program, I've noticed a lot of my classmates have successfully pivoted their careers, and that reassures me that I have potential growth in this field. It also makes me realize that this program is actually turning out the next generation of leaders in sustainable energy. It's great to know that beyond the program I will have this strong network, which isn't something that's guaranteed in an online program.

Abigail Hunter, MA in Sustainable Energy (online), Class of 2023
---
Program Schedule
Year One
Term
Course(s)
Duration
Block 1
Intro to Sustainable Energy
8/30/21 – 10/24/21 (8 weeks)
Energy & Environmental Policy Analysis
10/25/21 – 12/22/21 (8 weeks)
Thanksgiving Break
11/22/21 – 11/26/21 (1 week)
Winter Break
12/24/21 – 1/2/22 (1 week)
Block 2
Economics of Sustainable Energy
1/3/22 – 2/27/22 (8 weeks)
Distributed and Renewable Energy
2/28/22 – 5/1/22 (8 weeks)
Spring Break
3/21/22 – 3/25/22 (1 week)
Sustainable Energy and Climate Change
5/2/22 – 6/26/22 (8 weeks)
Global Governance of Sustainable Energy
6/27/22 – 8/21/22 (8 weeks)
Residency
Summer Residency
8/22/22 – 8/26/22 (1 week)
Year Two
Term
Course(s)
Duration
Block 3
Sustainable Energy in Economic Development
8/29/22 – 10/23/22 (8 weeks)
Systems Analysis for Sustainable Energy
10/24/22 – 12/23/22 (8 weeks)
Thanksgiving Break
11/21/22 – 11/25/22 (1 week)
Winter Break
12/24/22 – 1/23/23 (4 weeks)
Block 4
Sustainable Energy Finance
1/23/23 – 3/19/23 (8 weeks)
Spring Break
3/20/23 – 3/24/23 (1 week)
Capstone
3/27/23 – 5/21/23 (8 weeks)
Residency
Capstone Presentation Residency
5/22/23 – 5/24/23 (3 days)
Graduation
Commencement Ceremony
5/24/23
Year One
Term
Course(s)
Duration
Block 1
Intro to Sustainable Energy
1/3/22 – 2/27/22 (8 weeks)
Energy & Environmental Policy Analysis
2/28/22 – 5/1/22 (8 weeks)
Spring Break
3/21/22 – 3/25/22 (1 week)
Economics of Sustainable Energy
5/2/22 – 6/26/22 (8 weeks)
Distributed and Renewable Energy
6/27/22 – 8/21/22 (8 weeks)
Summer Break
8/22/22 – 8/26/22 (1 week)
Block 2
Sustainable Energy and Climate Change
8/29/22 – 10/23/22 (8 weeks)
Global Governance of Sustainable Energy
10/24/22 – 12/23/22 (8 weeks)
Thanksgiving Break
11/21/22 – 11/27/22 (1 week)
Winter Break
12/24/22 – 1/1/23 (1 weeks)
Residency
Summer Residency
8/22/22 – 8/26/22 (1 week)
Year Two
Term
Course(s)
Duration
Block 3
Sustainable Energy in Economic Development
1/2/23 – 2/26/23 (8 weeks)
Systems Analysis for Sustainable Energy
2/27/23 – 4/30/22 (8 weeks)
Spring Break
3/20/23 – 3/26/23 (1 week)
Sustainable Energy Finance
5/1/23 – 6/25/23 (8 weeks)
Capstone
6/26/23 – 8/20/23 (8 weeks)
Residency
Capstone Presentation Residency
8/21/23 – 8/24/23 (3 days)
Graduation
Commencement Ceremony
8/25/23
Year One
Term
Course
Duration
Block 1
Intro to Sustainable Energy
8/29/22 – 10/23/22 (8 weeks)
Energy and Environmental Policy Analysis
10/24/22 – 12/23/22 (8 weeks)
Thanksgiving Break
11/21/22 – 11/25/22 (1 week)
Winter Break
12/24/22 – 1/2/23 (1 week)
Block 2
Economics of Sustainable Energy
1/3/23 – 2/26/23 (8 weeks)
Distributed and Renewable Energy
2/27/23 – 4/30/23 (8 weeks)
Spring Break
3/20/23 – 3/24/23 (1 week)
Sustainable Energy and Climate Change
5/1/23 – 6/25/23 (8 weeks)
Global Governance of Sustainable Energy
6/26/23 – 8/20/23 (8 weeks)
Capstone Residency 1
8/21/23 – 8/25/23 (1 week)
Year Two
Term
Course
Duration
Block 3
Sustainable Energy in Economic Development
8/28/23 – 10/22/23 (8 weeks)
Systems Analysis for Sustainable Energy
10/23/23 – 12/22/23 (8 weeks)
Thanksgiving Break
11/20/23 – 11/24/23 (1 week)
Winter Break
12/25/23 – 1/21/24 (1 week)
Block 4
Sustainable Energy Finance
1/22/24 – 3/17/24 (8 weeks)
Spring Break
3/18/24 – 3/22/24 (1 week)
Capstone
3/25/24 – 5/19/24 (8 weeks)
Capstone Residency 2
5/20/24 – 5/22/24
Graduation
Commencement Ceremony
5/23/24
Year One
Term
Course
Duration
Block 1
Intro to Sustainable Energy
8/28/23 – 10/22/23 (8 Weeks)
Energy and Environmental Policy Analysis
10/23/23 – 12/22/23 (8 Weeks)
Thanksgiving/Fall Break
11/20/23 – 11/24/23 (1 Week)
Winter Break
12/23/23 – 1/1/24 (1 Week)
Block 2
Economics of Sustainable Energy
1/2/24 – 2/25/24 (8 Weeks)
Distributed and Renewable Energy
2/26/24 – 4/28/24 (8 Weeks)
Spring Break
3/18/24 – 3/22/24 (1 Week)
Sustainable Energy and Climate Change
4/29/24 – 6/23/24 (8 Weeks)
Global Governance of Sustainable Energy
6/24/24 – 8/18/24 (8 Weeks)
Residency
Capstone Residency 1
8/19/24 – 8/23/24 (1 Week)
Year Two
Term
Course
Duration
Block 3
Sustainable Energy in Economic Development
8/26/24 – 10/20-24 (8 Weeks)
Systems Analysis for Sustainable Energy
10/21/24 – 12/22/24 (8 Weeks)
Thanksgiving/Fall Break
11/25/24 – 11/29/24 (1 Week)
Winter Break
12/23/24 – 1/20/25 (4 Weeks)
Block 4
Sustainable Energy Finance
1/21/25 – 3/16/25 (8 Weeks)
Spring Break
3/17/25 – 3/21/25 (4 Days)
Capstone
3/24/25 – 5/18/25 (8 Weeks)
Residency
Capstone Residency 2
5/19/25 – 5/21/25 (3 Days)
Graduation
Commencement Ceremony
5/21/25
Dates are subject to change