19 June, 2021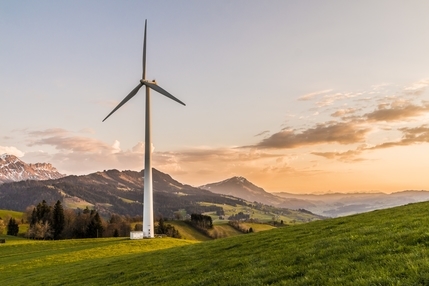 The sustainable energy job market and the industry as a whole are poised for significant, global growth. As it becomes more cost effective to leverage clean and renewable energy sources, many organizations need professionals and leaders who not only understand the sustainable energy market but have the broad understanding of economics, business process, policy and finance to translate sustainable energy goals into actionable, strategic plans.
In this article, we'll explore a selection of sustainable energy careers that align well with the skills and expertise taught in our MA in Sustainable Energy (online) program. However, this is only a sample of the types of careers available, and there are many other career paths where sustainable energy is a major facet of the work even if it is not the exclusive focus.
If you have questions about potential career outcomes or want to know more specifically about how our degree aligns with your personal goals, you can request more information about the program here, or
chat with an admissions counselor directly
.
You can also visit our sustainable energy master's curriculum page to see a full course list with descriptions.
---
An Exceptional Time for a Career in Sustainable Energy
The global momentum for sustainable energy shows no signs of slowing down, and recent events have highlighted the sector's resilience even in the face of a global pandemic. In the first quarter of 2020, for example, overall global energy demand declined nearly 4%, while sustainable energy in particular saw 1.5% growth compared to the first quarter of 2019.
The sustainability and sustainable energy job market also benefits from building momentum, especially in areas where employers struggle to find qualified talent, such as finance, operations and management. According to the Environmental and Energy Study Institute, renewable energy careers are among the fastest-growing segments within the U.S. energy sector. This is due to increasing employment in areas like wind and geothermal power as well as growth in renewable fuels such as corn ethanol and wood biomass.
"The sustainable energy industry grapples with complex challenges in economics, technology, and governance. Solving problems in this industry requires a solid technical foundation, but understanding economics, finance, policy processes, and politics is equally important. The MA in Sustainable Energy program at Johns Hopkins University adds unique value by preparing students to deal with all this complexity."
---
---
The Skills Gap in the Sustainable Energy Job Market
The sustainable energy skills gap is especially prominent in emerging energy markets. In Kenya, for example, the percentage of the population with access to energy doubled from 23% to 56% between 2009 and 2016. Yet, according to Rebekah Shirley, Chief Research Officer at Power for All, countries across Sub-Saharan Africa are struggling to find the talent to fully achieve their energy and sustainability goals.
"Despite growing demand for home solar systems and other off-grid renewable energy solutions in Africa and Asia, there is a growing shortage of job-ready talent to finance, develop, install, operate and manage these systems," Shirley wrote.
The same skills shortages have also been noted in analyses looking at the United States. Despite being one of the fastest-growing renewable energy segments in the country, for example, U.S. wind power employers said they had difficulty hiring for two-thirds of all occupations they needed to fill in 2019. The roles employers struggled with the most were also spread across many disciplines, including government regulation and policy, research and economics.
---
Master's in Sustainable Energy Careers
The types of roles you can fill in sustainable energy include a variety of technical and non-technical positions. These roles typically fall into several broad areas, including energy consulting, economics, finance, public policy and research. These opportunities can also be found in a range of different organizations, such as:
Local and Federal Government
Government Relations
International Organizations
Nonprofits
Energy Trade Organizations
Utilities
Market research
While the MA in Sustainable Energy program at Johns Hopkins University is not designed to prepare students for technical roles, applicants with technical backgrounds often have valuable context and understanding for guiding policy and consulting with organizations to determine the feasibility of sustainable energy initiatives. So, the Johns Hopkins SAIS sustainable energy master's program can act as an excellent career enhancement for those interested in using their existing technical expertise to guide sustainable energy policy, research and investment.
---
Sustainable Energy and Sustainability Job Titles
There are a wide variety of sustainable energy jobs available for roles such as analyst, management, researcher and others. These roles represent a broad sample of careers available in the field, and the key skills and responsibilities required are equally varied. While this market is defined by change, we believe many of the foundational skills — such as economics, finance, research and policy — that are critical to solving today's sustainable energy challenges will remain essential as the sustainable energy job market continues to grow.
Here is a quick overview of the job titles covered in further detail below:
| Sustainable Energy Job Title | Average Salary |
| --- | --- |
| Project Manager (Utilities Sector) | $109,535* |
| Energy Analyst | $85,031 |
| Sustainability Consultant | $75,499 |
| Director of Policy Advocacy | $65,665 |
*Estimated median salary
Salary data compiled from Glassdoor, Paysa and Burning Glass.
Sustainability Consultant
Sustainability consultants help organizations develop plans and policies for executing their goals that reduce their environmental impact. This work may involve developing strategic plans to reduce an organization's overall energy usage and waste, procuring energy from renewable sources and reviewing an organizations' policies against local, state/province and national regulations.
One of the key areas of work for sustainability consultants is helping to determine the feasibility of initiatives that help their organizations reach carbon neutral or carbon negative status, and then making recommendations for how to achieve these goals. This may involve creating short- and long-term plans for sourcing renewable energy, as well as identifying renewable energy distributors for their organization to pursue power purchase agreements.
For example, Microsoft has set a goal to reach carbon negative status by 2030. As part of this initiative, the company is evaluating its entire supply chain, including the way it sources energy and the carbon footprint of its partners and suppliers.
Sustainability consulting careers offer a wide range of salaries depending on factors such as professional experience and work environment. According to Glassdoor, sustainability consultant salaries range from about $49,000 to $110,000, with an average salary of $75,499 based on 5,379 individuals reporting.
Salary data for the sustainability consultant role includes base pay only. Some positions may also receive bonus pay and other incentives based on performance.
Director of Policy Advocacy
Policy advocacy directors are responsible for comprehensively evaluating an organization's policies and implementing process improvements. This role involves a blend of research, management, leadership and analysis skills to ensure that stakeholders across their organizations can implement policy and process changes effectively. In larger organizations, there are roles for policy directors with specific focus areas (e.g., Director of Sustainability Policy), while similar roles in smaller organizations are likely to have a considerable breadth of responsibilities. State government organizations, for example, have regulatory policy directors who spearhead initiatives related to both sustainable and non-sustainable energy.
These professionals can make a dramatic impact on an entire region's ability to adopt clean energy and shift to more sustainable practices. They may guide policy creation that makes implementing clean energy practices more feasible for consumers and encourages sustainable energy research and development. In China, for example, the government subsidizes research in two key areas:
According to Glassdoor, policy advocacy directors' salaries range from $47,000 to $90,000, with an average salary of $65,665 based on 1,549 individuals reporting.
Salary data for the director of policy role includes base pay only. Some positions may also receive bonus pay and other incentives based on performance.
Energy Analyst/Senior Energy Analyst
Energy analysts help organizations and consumers make better decisions related to energy procurement and usage. Many of these roles have a sustainable energy or sustainability component in them, and some companies have begun hiring analysts focused entirely on sustainability. Analyst roles may also be focused on specific subsets of sustainable energy (e.g., alternative fuels, electric power generation).
These roles are typically research- and analytics-intensive, and analysts may be responsible for presenting data to stakeholders within their organization and to customers or partners. For example, one of the responsibilities of energy analysts working in utility companies is to provide pricing and risk models to determine the feasibility of specific projects or larger strategic initiatives, such as where to build new energy distribution infrastructure and what energy sources to use. Technology and services companies also hire energy analysts to review utility and usage data, economic trends and other indicators to help guide the development of new services or make cost savings estimates for customers and prospects.
According to Paysa.com, the energy analysts' salaries range from $69,050 to $114,589 with an average of $85,031, based on 3,000 individuals.
Salary data for the energy analyst role represents total compensation, including base pay and bonuses. This data is likely to be skewed higher than data only including base pay as a result.
Project Developer/Project Director/Project Manager
Project developers or project directors focused on sustainable energy oversee the development and construction of new energy infrastructure. They may be involved in coordinating different stakeholders and ensuring that new development projects follow best practices as well as local, state and federal policies. They can also be involved in creating financial and energy generation models, reporting to regulatory agencies and interfacing with engineering and construction teams to resolve issues.
The expertise required for this career path broadly covers project management, supply chain and logistics, finance, communication, quantitative analysis, business process improvement and more. There are also a variety of technical project management roles within this field — these roles require an understanding of the technology driving sustainable energy as well as how to lead engineering teams in addition to traditional project management skills. According to Burning Glass, a platform that aggregates job posting data, the following skill categories are in highest demand for project management professionals working in the utilities sector:
Budget Management
Business Process Analysis
People Management
Project Scheduling
Supply Chain Logistics and Procurement
Construction Management
Cost Estimation
Burning Glass collected data from 2,197 job postings for project managers, project directors and project developers in the utilities sector in 2019. The estimated median salary for these roles (excluding technical roles like engineering manager or information technology project manager) was $93,466, increasing to $109,535 for job postings that mention a master's degree.
Salary data is based on Burning Glass's proprietary model for estimating the market salary of a specific role. This model uses job postings with advertised salaries and extrapolates based on other factors using machine learning.
"Government, business, and civil society leaders around the world have recognized the urgent need for ambitious climate action. A sustainable energy system is key to avoiding climate disruption, and demand for low-carbon energy sources will continue to growth rapidly both in the United States and globally. The sustainable energy industry will be a major source of well-paying, impactful jobs as the global economy recovers from the COVID-19 pandemic."
---
---
About the MA in Sustainable Energy (online) Program at Johns Hopkins SAIS
The sustainable energy master's program at Johns Hopkins University is uniquely tailored to fit the demands of the sustainable energy sector. Created by Johns Hopkins SAIS faculty with input from industry experts and employers, the program's curriculum is designed to help graduates elevate their expertise in finance, economics and policy, while also helping them become more effective researchers.
The challenges we face in transitioning to sustainable energy are global in nature, and, as a top-11 global university, Johns Hopkins is uniquely positioned to give graduates the skills they need to thrive in many different professional environments, including in government agencies, utility companies, energy trade organizations, global energy governance organizations and more. Students enrolled in the Johns Hopkins SAIS sustainable energy degree program benefit from our global perspective, our industry connections, our highly engaged 230,000+ alumni network and our high-touch career services.
Disclaimer: This content has not been peer reviewed and is for informational purposes only.