18 November, 2022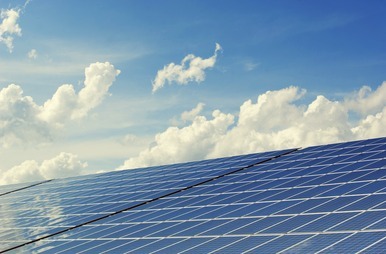 The Inflation Reduction Act (IRA), signed into law by President Joe Biden on August 16, 2022, included measures focused on a variety of issues such as prescription drug prices and corporate taxes. But most significantly, the bill has been widely described as the single greatest investment in battling climate change in United States history. From the perspectives of many advocates and policymakers striving to advance the transition to renewable energy, the IRA has the potential to be a major turning point in the U.S. response to the climate crisis.
Johns Hopkins University Assistant Professor of Energy, Resources, and Environment Jonas Nahm, JHU Assistant Professor of Political Science Bentley Allan, and Georgetown University Associate Professor of Energy and Environment Joanna Lewis published an analysis finding that "the IRA puts economic opportunities rather than economic costs at the center of the climate policy conversation. That may transform America's economy — and perhaps its politics, too."
Nonetheless, experts agree that a great deal of work remains for the U.S. to succeed in hitting its climate targets and honoring the international commitment made in the 2015 Paris Agreement to reach net-zero greenhouse gas emissions by 2050. Getting there will involve concerted efforts from private businesses and nonprofits as well as government agencies. For professionals pursuing careers in the fields of climate policy and renewable energy technology, it's vital to understand the law's anticipated outcomes and consider what further actions must be taken. Experts who build their skills in analysis and leadership can guide the way to sustainable solutions in the years to come.
What's in the Law?
The Inflation Reduction Act directs $369 billion to climate and energy programs including:
Direct rebates to consumers who make efficient home energy purchases like heat pump clothes dryers or electric stoves and ovens.
Modernizing the U.S. Postal Service fleet with electric vehicles as well as replacing buses and garbage trucks with cleaner alternatives.
Tax incentives for:

Consumers' purchases of new and used electric vehicles.
Home improvements such as rooftop solar panels, insulation, and upgrades to windows and doors.
U.S. manufacturers producing components used in wind power, solar power, and battery storage.
Research and development in carbon dioxide capture and clean hydrogen power generation.
New energy technologies at the electric cooperatives that provide power in rural areas.
Benefits for the Climate and the Economy
The IRA is not quite sufficient to put the U.S. on track toward the Biden Administration's broader goal of a 50 percent reduction in carbon emissions from 2005 levels by 2030. However, the Department of Energy's assessment suggests that the bill could indeed get the country much closer, paving the way for a reduction of about 40 percent in that timeframe. That progress is vital as we see the effects of climate change in the forms of ice loss, sea level rise, wildfires, and extreme weather. Diminishing the greenhouse gasses in the atmosphere would slow warming, giving societies more time to adapt, and deliver health benefits through improved air quality.
The White House emphasized the IRA's economic value, projecting that families could save $1,000 or more per year by taking advantage of the tax credits for electric vehicles and home improvements, plus another $350 per year by purchasing efficient appliances. According to the administration, the bill's tax incentives and requirement for domestically produced content will bolster U.S. clean energy manufacturing, resulting in 950 million solar panels, 120,000 wind turbines and 2,300 power grid-scale battery plants by 2030.
"The scramble to meet domestic content requirements will lead to a rapid build-out of domestic manufacturing capacity for electric vehicles, batteries, wind turbines, solar panels, and the components and materials required to produce them," Nahm, Bentley, and Allan wrote in their analysis. "As states compete for these investments, many new plants will inevitably be constructed in parts of the United States where voters to date have not considered climate change a key priority."
It remains to be seen how these measures will pay off in the political discourse, but reducing carbon emissions certainly has the potential to deliver quantifiable gains for Americans' well-being. The Office of Management and Budget said that the changes in policy would prevent damage to property and health, ultimately saving up to $1.9 trillion in social costs.
What's Next in Climate Policy?
While widely applauding the IRA's provisions, climate experts agree that many additional steps will be necessary if the international community is to hit the Paris Agreement's target of limiting global temperature change to a maximum of 2 degrees Celsius (or preferably 1.5 degrees) over the pre-industrial average. Reaching that point will require transformations in industry, transportation, and the power grid. Professor of Environmental Management Benjamin F. Hobbs outlined to the JHU Hub what he views as potential next steps to motivate a lasting, nationwide shift toward sustainability.
"Tax credits for clean technologies — the emphasis of this bill — are only a partial answer, and do very little, for instance, to incentivize minimizing emissions from operating the power plants that are in place at any given time or to motivate consumers to use less energy," he said. "Full decarbonization will be affordable if we use tax, utility pricing, and other policies to set a consistent price on carbon throughout the economy."
The kinds of technological innovations supported by the IRA are also crucial to alter how the U.S. produces energy and manages greenhouse gasses. At the Johns Hopkins Ralph O'Connor Sustainable Energy Institute, for example, researchers are investigating methods to remove carbon dioxide from the atmosphere and convert it to solid carbon that's useful in industry. Others are striving to create materials that offer increased storage for solar energy and put this power to work in a wide variety of applications. The bill's incentives will support efforts like these and spur promising new projects in the public and private sectors.
Governments, businesses, NGOs, and individuals all have their own parts to play in reaching ambitious climate goals even as major obstacles continue to emerge, such as the June 2020 Supreme Court ruling that limited the authority of the Environmental Protection Agency to regulate emissions from power plants. But as Professor of Political Science Hahrie Han warned in The Johns Hopkins News-Letter, the urgency of climate change means there is limited time to overcome the competing interests that stand in the way of policy solutions.
"We should all be heartened by the passage of the IRA," she said. "It is a monumental step, but there is still more to do. None of us should underestimate the role that we can play in making personal decisions and being part of the political coalitions needed to create a sustainable future."
Marshaling the necessary resources in the face of ideological divisions and economic headwinds is the defining challenge for professionals in the sustainable energy field. To make the next leap forward, organizations will need leadership from analytical problem-solvers with rigorous expertise in the relevant issues of policy and economics.
About the MA in Sustainable Energy (online) Program at Johns Hopkins SAIS
Provided by a top-ranked global university, the Master of Arts in Sustainable Energy (online) at Johns Hopkins School of Advanced International Studies (SAIS) prepares professionals to answer questions about how we can effectively transition to sustainable energy. Students expand their knowledge and improve their critical thinking skills, helping them rise to leadership positions.
Developed with input from faculty, industry leaders and sustainable energy employers, the program's courses are taught by highly experienced researchers and professionals. Students in the Johns Hopkins SAIS benefit from the expertise and industry connections of our faculty as well as our network of 230,000+ alumni.
Disclaimer: This content has not been peer reviewed and is for informational purposes only.