MA in Sustainable Energy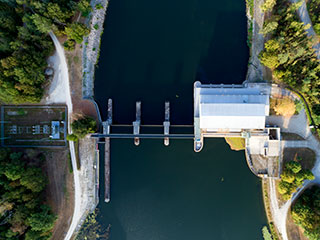 Leveraging the expertise of the Johns Hopkins SAIS' faculty and connections to global leaders in sustainable energy, this rigorous graduate degree program has been designed to fill key skill gaps across the energy sector — including in consulting, market research, policy, strategic advising and more.
Once enrolled, students gain access to the full breadth of resources available at Johns Hopkins SAIS, including career counseling and personalized job search assistance. Graduates also join the global alumni community of more than 230,000 Johns Hopkins University graduates. As one of the top universities for international relations, Johns Hopkins is recognized worldwide by employers, researchers as well as government and policy organizations.
In addition to online coursework, the program features two experiences at the Johns Hopkins SAIS campus in Washington DC. These experiences give students the opportunity to connect with their cohort, expert faculty and study directly within the largest hub of energy policy and legislation in the United States. The second on-campus experience consists of the MA in Sustainable Energy capstone presentation and commencement ceremony, where students will participate with the full Johns Hopkins SAIS community in Washington DC. For any questions or concerns regarding the in-person residencies, connect with an admissions counselor via chat or submit the request information form.
3.2 million
Total number of clean energy jobs in the U.S. in 20211
1.6 million
Number of new clean energy jobs added in the U.S. by 20302
14 million
Number of new clean energy jobs added worldwide by 20203
---
1. E2, "Clean Jobs America 2022."
2. National Renewable Energy Laboratory, "State-Level Employment Projections for Four Clean Energy Technologies in 2025 and 2030."
3. IEA, "World Energy Employment, 2022."
Sustainable Energy Industry and Career Outlook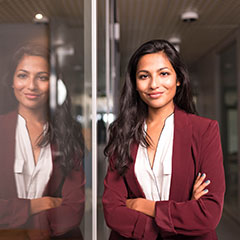 With advancements in power distribution and storage as well as decreasing technology costs, it is a pivotal time for the renewable energy sector. Utilities are beginning to rethink their infrastructure to leverage lower-cost alternatives to fossil fuels, and challenges like the climate crisis have created global pressure to find innovative and practical solutions.
In April 2019, renewable energy made up 23% of U.S. power generation, outpacing coal for the first time4 in history. As investment in renewable energy grows, however, employers are struggling to find talent with the skills needed to shape policy and push these initiatives forward — in 2019, 77% of U.S. employers in the energy efficiency, electric power distribution and transmission and fuels sector said they had difficulty finding skilled professionals5.
When looking at the sector globally, it is increasingly clear that renewables present an untapped opportunity. Although developed countries, including Denmark, Portugal and Spain, are leading the way for clean energy production, emerging markets across Europe, South America and Asia are increasingly invested in renewables. In 2016, for example, Uruguay and Lithuania generated 26% and 30% of their power from wind and solar, respectively.
Learn From The Best: Our Faculty
Students in the sustainable energy master's degree program learn from experts at the forefront of their fields. As avid researchers and practitioners with decades of energy sector experience, Johns Hopkins professors bring their real-world research and cutting-edge use cases to the classroom. The Johns Hopkins SAIS faculty includes award-winning authors, researchers and leaders in areas such as management consulting, global energy, as well as a full range of other disciplines within sustainable energy. They are also members and leaders within organizations such as Energy Security and Climate Initiative and Initiative for Sustainable Energy Policy (ISEP).
The School of Advanced International Studies (SAIS) at Johns Hopkins has created a culture focused on supporting each other, collaboration, and challenging each other to continuously improve. All students, both online and on-campus, have opportunities to participate and build on that culture as members of this accomplished community.
Sustainable Energy Curriculum
The MA in Sustainable Energy is a cohort-based program completed over 21 months in the fall or 18 months in the spring. Driven by quantitative analysis in policy and economics, the degree prepares graduates to solve complex problems as leaders of clean energy research, policy and development initiatives. The list below summarizes the areas of study, and you can find a full course list by downloading the program brochure.
Energy and environmental policy
Advances and challenges in sustainable energy
Overview of the most important sustainable energy governance
Systems analysis for sustainable energy
---
4. National Association of State Energy Officials, "The 2019 U.S. Energy & Employment Report."
5. Institute for Energy Economics and Financial Analysis, "Emerging Economies 'Catching Up' in Global Renewables Race"
About Johns Hopkins SAIS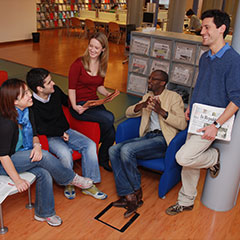 For 75 years, students have come to the Johns Hopkins University School of Advanced International Studies (SAIS) to build their professional networks, learn from renowned faculty, train with policy practitioners and gain hands-on work experience.
Today, guided by the vision of its founders, the school's cadre of expert faculty prepares students for exciting careers across sectors and around the world. With a global alumni network of more than 20,000 graduates, you can be sure to find our alumni taking action in dynamic roles. From private-sector executives to entrepreneurs, leaders of nongovernmental organizations to ambassadors, and international media correspondents to energy consultants, alumni of the school are known for being innovative thinkers and problem-solvers with the economic and policy expertise to address today's most pressing challenges.
Rankings and Accreditation
U.S. News & World Report recognizes Johns Hopkins for its commitment to student success, excellent student social mobility, faculty as well as its reputation among leaders at other universities.
U.S. News ranks Johns Hopkins as a top-10 national university as well as top-10 in most innovative schools in the country. Some other key rankings include:
#10
Best Global Universities, U.S. News & World Report
#9
Best Value Schools, U.S. News & World Report
#3
Best Graduate Programs for International Relations, Foreign Policy Magazine